News
CEDC Elects New Board Leadership
January 29, 2019

Columbia Economic Development Corporation (CEDC) today announced that its Board of Directors elected David Fingar, Chief Engineer of Mid-Hudson Cable, as Board Chair.  Former Chair Tony Jones retired from the Board of Directors on January 28, 2019.

"I would like to thank my fellow board members for their confidence in electing me to chair the Columbia Economic Development Corporation," stated Chair Dave Fingar.  "CEDC has grown to be a valuable asset to many businesses in the county. I look forward to continuing our programs and building on them. I would like to see CEDC work with the City, Towns, and residents in developing and promoting properties to prospective businesses that wish to locate here."

David Fingar has served as Chief Engineer for Mid-Hudson Cable for the past 30 years.  Mr. Fingar is a former councilman for the Town of Livingston.  He was elected to the Board of Directors in August 2014.

Columbia County Sees Increased Sales Tax Revenue
January 30, 2019

Sales Tax Growth Strengthens for a Third Year: 2018 Collections Up 5.3 Percent

Hudson, NY – According to a report from the NYS Comptroller's office, Columbia County sales tax revenue increased 8.44% from 2017 to 2018, which was the largest increase of any county in the Capital Region. The County collected over $43 million in sales tax in 2018.
February 18, 2019 – President's Day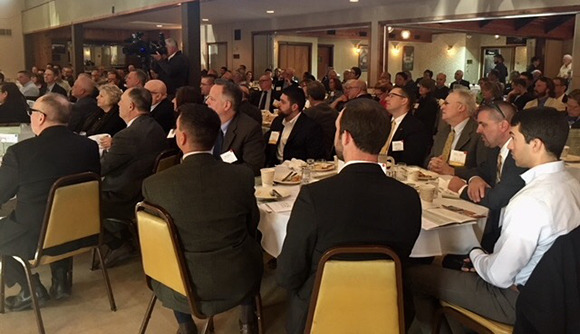 —–  Save the Date  —–
CEDC 2019 ANNUAL MEETING
April 30, 2019 | 7:30AM – 9:30AM
Kozel's Restaurant
Rte 9H, Ghent, NY 12075

2019 Spring Recruitment Expo
April 16, 2019 | 10:00AM – 2:00PM
Columbia-Greene Community College
For-Profit Registration and Payment
Non-Profit Registration and Payment
Projects

Newsletters
Special Edition eBlasts
Hudson Valley Creamery
Artisan Goat Cheese in Columbia County
Hudson Valley Creamery (HVC), located in Livingston, has been growing in Columbia County in recent years, continuing a long tradition of a strong agribusiness sector. The company produces artisan-style goat cheese in a facility that is the only of its kind on the East Coast. CEDC has worked with HVC to secure funding, including a $1 million state grant in 2015, and study the goat cheese industry.
The Wick Hotel
Growing Capacity for Tourism
The Wick Hotel, on Cross Street in Hudson, is a 55-room boutique hotel that promises to bring increased tourism and event-based business to the City of Hudson and Columbia County. The $8 million project was supported by a $1.5 million grant from Empire State Development, and once open the hotel is expected to produce over $2 million in economic impact for the area annually.