Home
Thank you to those that attended our Annual Meeting on April 27th!
Dr. Carlee Drummer, President
Columbia-Greene Community College
CEDC Fast Forward Loans 
Relief for small businesses
On-Demand Webinars:
If you have been unable to attend SBDC's recent webinars, they are currently available for on-demand viewing.  As additional program guidance becomes available, additional webinars will be scheduled.
Mission Statement:  Our mission is to strengthen the area's tax base through economic development and job creation, to assist business to locate and expand within the County, and to promote Columbia County as a premier spot for both business investment and personal opportunity.
CEDC Loan Program:  Our SBA Microloans are geared for small, medium and even large, for-profit businesses in Columbia and Greene Counties.  All Microloans come with one-on-one technical assistance at no charge.  Our CEDC Revolving Loan Fund is geared for start-ups and expanding businesses that create jobs in Columbia County.  Interest rates and terms are competitive.
More
ColumbiaComeback

Columbia County Re-Opening Resources & Information
Contact Us:  info@columbiacomeback.com
Monthly Newsletters
CEDC 2020 Virtual Annual Meeting
Meeting Links
Help Define Columbia County's Future
CEDC Member Profile
The Olana Partnership 
www.olana.org
Frederic Church designed Olana as a holistic environment integrating his advanced ideas about art, architecture, landscape design, and environmental conservation over 40 years (1860-1900). Olana is the most intact 19th-century artist's home, studio, and landscape in the United States.
Olana is part of New York State's system of historic sites, and the 250-acre designed landscape is open to the public year-round, 8:30am-sunset, with free access for recreational use. Olana's landscape features five miles of carriage roads and a Persian-inspired house with unrivaled panoramic views of the Hudson Valley, Catskill Mountains, and five surrounding states.  More
Talbott & Arding Cheese & Provisions
On the surface, it's a cheese and pastry shop with a bakery and prepared foods to go. But on top of that, the company has developed a line of crackers and preserves under the Talbott & Arding name that is sold on the internet. The owners are investing in their website to drive e-commerce while increasing revenue in their flagship store.
NancyScans & 3D Photoworks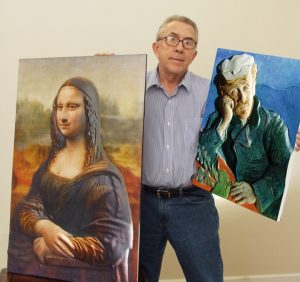 NancyScans was founded in 1994 in Chatham, New York by husband-and-wife team John and Nancy Olson.  A former award-winning photographer, John identified a need for printing and scanning services for artists and fine art photographers. The business started by offering a wide range of scanning, printing, and